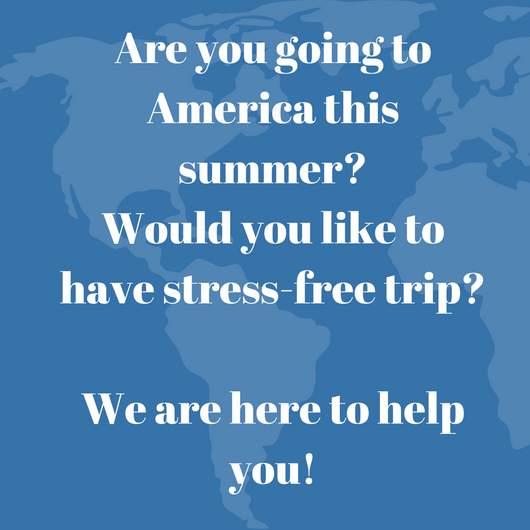 Are you planing to visit America this summer? Would you like to have stress-free trip? We are here to help you!
USA is one of the most popular travel destination around the world. Every summer millions of people come here to spend their vacation or visit family. If it's your first trip to USA, here is what you need to know about this country:
1.  Public transportation is often very limited or not available at all in a lot of cities around USA. Roads can be very busy and difficult to navigate, especially if you don't know English very well. That's why you need to decide in advance how you're going to travel in USA and maybe rent a car with good navigation system.
2. Make sure to have a valid credit/debit card. It's the most popular way of making purchases and payments in USA.
3. Don't use your cell phone. If you want to save money, you can buy local prepaid cellphone plan or use public Wi-Fi.
4. USA is a country with one of the most expensive prices for medical services and if you get sick here, it might cost you thousands of dollars. Please buy visitor insurance before you leave your home country. Here you can quote and apply for visitor health insurance plans provided by India Network Services.
5. Don't be surprised to pay more than you see on a store tag because of sales tax. It varies depending on what you're going to buy.
6. Be ready to give tips in restaurants, hotels, SPA, etc. If you're going to pay with a credit card, you'll need to write the amount of tip you would like to give on the credit card receipt and add it to the total number on the receipt.
7. USA uses a different measure system – distance in miles, temperature in Fahrenheit, weight in pounds, and height in feet.
Enjoy your trip and if you want to have stress-free time you should buy visitor health insurance. Go to this page to quote and apple for visitor insurance plans provided by India Network Services.
India Network Services is a US-based company that administers visitor health insurance to tourists, students, temporary workers and their families. Visitor medical plans are offered for all age groups (0-99 years old) with both fixed coverage, comprehensive coverage and with or without pre-existing condition coverage.