U.S. Citizenship and Immigration Services has reached the congressionally mandated H-2B cap for the first half of fiscal year 2018 says United States Citizenship and Immigration Services. Please go to their website to learn more.
If you're H1B holder it's very important for you to have a proper Visitor Health Insurance because medicine bills can get extremely high in America. Please learn more about different Visitor Health Insurance Plans.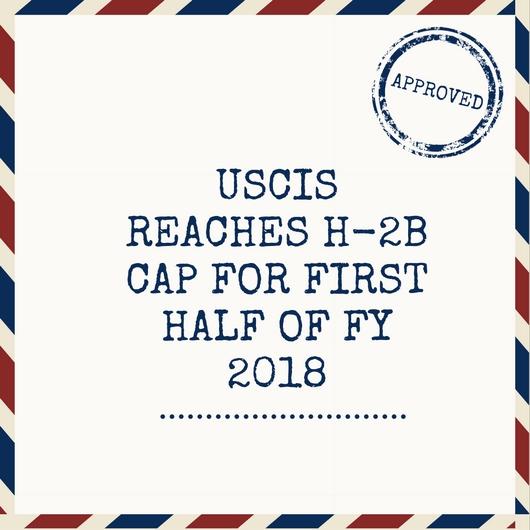 Dec. 15, 2017, was the final receipt date for new H-2B worker petitions requesting an employment start date before April 1, 2018. USCIS will reject new cap-subject H-2B petitions received after Dec. 15 that request an employment start date before April 1, 2018.
USCIS continues to accept H-2B petitions that are exempt from the congressionally mandated cap. This includes the following types of petitions:
Current H-2B workers in the United States petitioning to extend their stay and, if applicable, change the terms of their employment or change their employers;
Fish roe processors, fish roe technicians, and/or supervisors of fish roe processing; and,
Workers performing labor or services in the Commonwealth of Northern Mariana Islands and/or Guam from Nov. 28, 2009, until Dec. 31, 2019.
USCIS is currently accepting cap-subject petitions for the second half of FY 2018 for employment start dates on or after April 1, 2018.
U.S. businesses use the H-2B program to employ foreign workers for temporary nonagricultural jobs. Currently, Congress has set the H-2B cap at 66,000 per fiscal year, with 33,000 for workers who begin employment in the first half of the fiscal year (Oct.1 – March 31) and 33,000 for workers who begin employment in the second half of the fiscal year (April 1 – Sept. 30).
We encourage H-2B petitioners to visit the H-2B Fiscal Year (FY) 2018 Cap Season Web page.
For more information on USCIS and its programs, please visit www.uscis.gov and to read the full article go here.
Before you come to the US don't forget to get a Visitor Health Insurance with good medical insurance coverage. Please read more about Health Insurance Plans offered by India Network Services.
About India Network Health Insurance
India Network Services is a US-based company that administers visitor health insurance to tourists, students, temporary workers and their families. Visitor medical plans are offered for all age groups with both fixed coverage, comprehensive coverage and with or without pre-existing condition coverage.