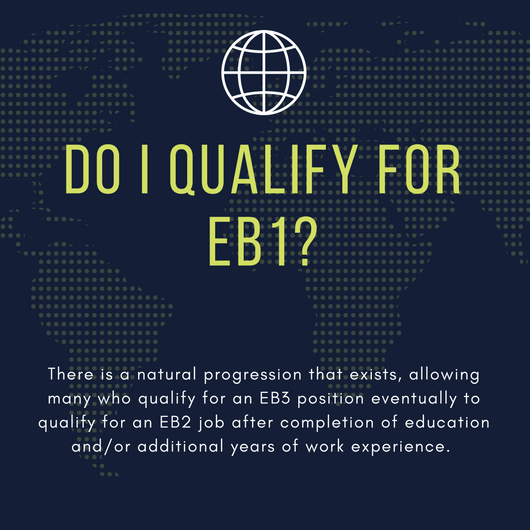 The Murthy Law Firm is going to help you better understand the EB1 process. If you need a legal help with filing a petition you can go to The Murthy Law website to get more information. You should always have a Health Insurance when you're in the U.S. Please read more about Visitor Health Insurance Plans and Health Insurance Plans for US citizens and residents.
It is not unusual for a foreign national to be sponsored for an employment-based, third preference (EB3) position, and to later "upgrade" to an employment-based, second preference (EB2) position in a subsequent case, based on a higher level degree and/or additional work experience. For many, this raises the question about the prospect of upgrading to the coveted employment-based, first preference (EB1) category. While it certainly is possible for a person with an EB2 or EB3 position to then be sponsored for an EB1 position, it is important to understand that the criteria to qualify for EB1 is not simply a matter of additional schooling or experience as seen in the transition from EB3 to EB2.
Qualifying for EB1
There are three different subcategories of EB1, each with its own distinct criteria:
EB1(a) – Persons of Extraordinary Ability
This subcategory of EB1 is reserved for those with extraordinary ability in the sciences, arts, education, business, or athletics. To qualify, the foreign national must be able to show sustained national or international acclaim. The individual's achievements in the field generally must be evidenced by extensive documentation.
A candidate for this category can self-petition; no offer of employment is necessary, but the applicant must intend to work in his or her field of expertise. More details on the EB1(a) category are available in the MurthyDotCom NewsBrief, Self-Petitioned, Employment-Based Options (24.Nov.2015).
EB1(b) – Outstanding Professors and Researchers
The EB1(b) subcategory is designated for outstanding researchers and professors. Although the bar to qualify for EB1(b) tends not to be quite as high as that of EB1(a), it still requires that the candidate demonstrate international recognition for achievements in a particular academic field. As a 2010 policy memo from the U.S. Citizenship and Immigration Services (USCIS) put it, the candidate "… should stand apart in the academic community through eminence and distinction based on international recognition."
In addition to having a minimum of three years' experience as a teacher or researcher, the foreign national must be sponsored by either a university or institute of higher education, or by a private employer with at least three full-time researchers, and that employer should have achieved documented accomplishments in the field.
As with the EB1(a) category, a strong petition generally is one accompanied by extensive, objective evidence of one's accomplishments. See the MurthyDotCom InfoArticle, EB1: Outstanding Professor or Researcher for more details.
EB1(c) – Multinational Managers and Executives
The EB1(c) subcategory is reserved for multinational managers and executives, and is very similar to the requirements set out for the L1A classification. To qualify, one must have been employed outside the U.S. for at least one year within the past three years as a manger or executive by an organization related to the U.S. company sponsoring the foreign national. Further, the person must be coming to work for the related U.S. entity in a managerial or executive capacity. More information on the EB1(c) category can be found in the MurthyDotCom InfoArticle, Multinational Executives & Managers.
Conclusion
There is a natural progression that exists, allowing many who qualify for an EB3 position eventually to qualify for an EB2 job after completion of education and/or additional years of work experience. On the other hand, moving from EB3 or EB2 to EB1 is less straightforward. Still, given the possible benefits of filing under the EB1 category, especially for foreign nationals from oversubscribed countries, like India or China, exploring the possibility and understanding the eligibility criteria for filing an EB1 petition may be worthwhile.
The source: The Murthy Law Firm, please give them a call or go to their website for more information.
Before you come to the U.S. don't forget to get a Visitor Health Insurance with good medical insurance coverage. Please read more about Health Insurance Plans offered by India Network Services.
About India Network Health Insurance
India Network Services is a US-based company that administers visitor health insurance to tourists, students, temporary workers and their families. Visitor medical plans are offered for all age groups with both fixed coverage, comprehensive coverage and with or without pre-existing condition coverage.